How to Pay for Nursing School
Pursuing an advanced nursing degree is a great way to further your career and open the door to more responsibilities. But everyone knows that paying for nursing school isn't cheap. A RN-BSN degree can cost anywhere from $10,000 to $40,000 depending on where and how you attend. Below we've outlined some of the ways nursing students pay for their degrees.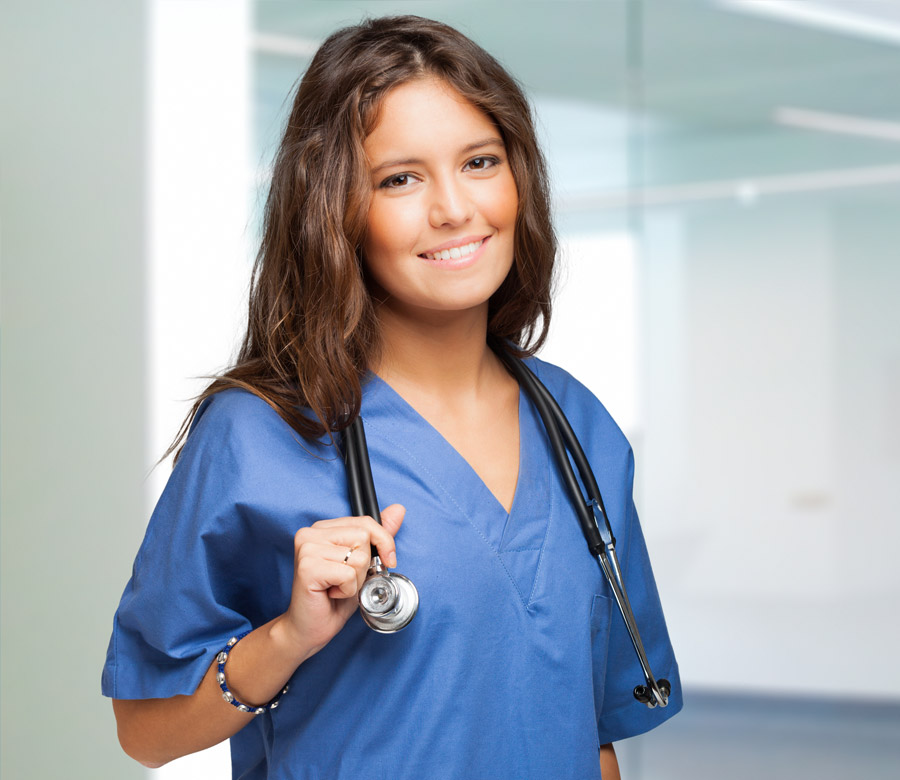 Scholarships
One of the best ways to pay for nursing school is through a scholarship. There are thousands available and you don't have to pay them back. Scholarships can be broad and open to everyone or have applicant restrictions.  There are scholarships for everyone from people with Hawaiian ancestry to minority nurses to nurses pursing midwifery and many more! Be sure to check business websites too. Everyone from scrub companies and stethoscope companies and more offer scholarships. Moneyfornursingschool.com has a comprehensive list of nationwide scholarships here.
Do you research to find out which scholarships are the best fit for you and your nursing school path. Check out our Scholarship Application Tips page for ideas on how to successfully apply.
Grants
Grants are another funding source that doesn't need to be paid back. Many state and local governments offer grants to help meet the ever-growing need for nurses. Some grants require you to work in a certain field or with a designated agency after graduation. The terms will be spelled out to you and if you fail to fill the requirement you may have to pay back the grant. Grants typically are awarded based on need but not in all cases. Do you research and apply for all grants which you qualify.
FAFSA
Filling out the Free Application for Federal Student Aid (FAFSA) is essential to your financial plan to pay for college. Current and prospective students should fill out the form to determine their eligibility for financial aid. Every year over $100 billion in loans, grants and work study assignments are given by the United States Department of Education. Many colleges and states also use the FAFSA to determine financial aid disbursements. Completing the FAFSA is the most important step you can take to get financial aid.
Graduate students should still complete the FAFSA. The biggest difference filling it out after completing your undergrad degree is whether or not you are considered independent or dependent on your parents. In most cases graduate students fill out the form as independent and are not required to provide parent financial information.
Things to know about the FAFSA:
It's free. You should never have to pay to apply.
Use a permanent/primary email address and not one from an employer that can be changed.
You will need to fill out a FAFSA for each year you are requesting aid.  
You don't have to be low income to get financial aid.
Many work study programs require you to fill out the FAFSA
Check deadlines. College, Federal and State deadlines can all vary.
Student Loans
Taking out loans is a very popular way to pay for college. Right now Americans owe more than $1.4 trillion in student loan debt.  As a nursing student you'll want to explore the options for a federal student loan before looking at private loans. Typically federal loans offer more flexible repayment options and there is the potential for forgiveness with options like the Public Service Loan Forgiveness program. No matter how qualified you are it is very unlikely that a private loan will be forgiven.
There are several options for student loans. Some include:
Direct unsubsidized loan

Interest rates are set by the government
You can delay repayment until after you graduate
Interest begins accruing immediately
Eligible for forgiveness

Direct subsidized loan

The government pays the interest
Eligible for forgiveness
Grad students are not eligible
If you have good credit you could find a better rate with a private loan

Parent Plus loan

Allows parents to help pay tuition costs
Can borrow up to the full amount of tuition
Must meet credit requirements
You won't qualify if you have a poor credit history
Interest rates are typically higher than a normal loan

Grad Plus loan

Interest starts accruing as soon as funds are dispersed
You have to pay a loan origination fee
The interest rate is fixed

HRSA loan

Loans set up specifically for health professions
Low income and disadvantaged students can get additional funds
Loans aren't available at all schools

Private loan

Rates could be better than federal loans
You don't need to qualify for federal aid to get a private loan
You can borrow more than the cost of tuition
Won't qualify for loan forgiveness
Variable rates can increase
You may have to begin repayment before you graduate
Sponsored
Complete in 23–27 months
Prepare for APRN certification
Develop expertise in an APRN specialty area (AG-ACNP, FNP, NM/WHNP, or WHNP)
Part-time plans of study available

Preparation to pursue certification as a Family Nurse Practitioner
Consistently strong first-time pass rates on certification examinations
Part-time, full-time, and extended plans of study
Accredited by the Commission on Collegiate Nursing Education (CCNE)

Designed for registered nurses (RNs) with a Bachelor of Science in Nursing
Offers a part-time option for active RNs to earn a Master of Science in Nursing online
Prepares RNs to pursue board certification as family nurse practitioners
Can be completed in as few as 21 months
Grounded in an understanding of social determinants of health
Military
Another option to pay for nursing school is to join the military. The Army, Navy/Marines, Air Force and National Guard all offer positions for nurses. The different branches all help RN's pay for nursing school through scholarships, grants and loan reimbursement programs. Some military nurse's may already have a BSN but they military can help you pay for another advanced degree. By joining the military, they may also pay some of your existing student loans from other institutions.
The Navy's ROTC program offers scholarships and may pay the entire cost of your nursing education. The Nurse Candidate Program can pay up to $34,000 towards your nursing education costs. The Army Nurse Corps offers nursing school loan repayment up to $30,000. When adding in the other benefits (free healthcare, travel, education) you should look into the options of having the United States Military pay for your nursing education.
Income Share Agreements
Income Share Agreements offer nursing students an innovative alternative to traditional student loans. With an Income Share Agreement, you pay a small percentage of your future earned income with rates based on what you are expected to earn. With ISAs, you never pay more than you can afford, as you only ever pay that same percentage of income.
Shorter duration (~5 years) vs. traditional loan (10+ years)
Payments based on a fixed percentage of future income
No interest payments
Grace period after graduation before payments begin
Tax Credits
Don't forget that you can deduct the interest you've paid on your student loan even if you're still in school. As long as you are paying down your loan the interest can be deducted if your MAGI (modified adjusted gross income) is $70,000 or less. Your maximum deduction is $2,500. If your MAGI was between $70,000 and $85,000 you can deduct a reduced amount.
There are additional education tax breaks available to you as well. The government offers tax credits and deductions if you're paying education expenses or are still in school. Many of these tax breaks are available even if you paid the expenses with your student loan money.
Alternative Methods
Credit cards – Don't do this. Most credit card interest rates are far higher than a traditional student loan.
Second job – Paying cash for college might be an option but it also may require you to work two jobs to make ends meet. The pros are that you won't have any student load debt. The cons are that you might get burnt out from all that studying and working.
Parents – Having parents that can help pay for tuition is a great way to get out of college debt free or with less debt if you have to pay them back. Don't be above asking your parents for help with college costs.
Employer – Ask your employer if they have any continuing education financial aid programs. Many times employers will pay for a portion of your school in exchange for additional years of work. For example they may pay for 50% of your master's degree if you sign a contract that you'll stay working there for two years after graduation. You'll still get your normal salary and half of your schooling paid for. Not a bad deal, especially if you like your company.
Pay cash – You could get your RN and then save money for a couple of years to put towards your BSN, MSN, etc. This may take longer to start your degree but will cost you less in the long run. Ultimately, you'll have to make a decision that is best for you.  It may make sense to delay your degree to save money, and get more experience, or you may want to take out a student loan and apply for scholarships and get started now. No matter what route you take, earning an advanced degree will open doors for you and lead to a fulfilling nursing career!
Sign Up for Nursing News & Updates
Sign up to receive updates from moneyfornursingschool.com. We'll send you important information on how to pay for nursing school, links to scholarships and tips to help you financially prepare for nursing school.